This course is presented as Live Virtual Training. Click for more details.
The ITIL® 4 Specialist: High Velocity IT (HVIT) certification is one of the 4 modules leading to the ITIL Managing Professional qualification. ITIL 4 HVIT addresses the specifics of digital transformation and helps organisations to evolve towards a convergence of business and technology, or to establish a new digital organisation.
The ITIL 4 Managing Professional (MP) Qualification
In the new ITIL® 4 scheme there are two high-level "stream" qualifications - ITIL Managing Professional (MP) stream and ITIL Strategic Leader (SL) stream.
The ITIL Managing Professional stream targets IT practitioners working within technology and digital teams across businesses and provides practical and technical knowledge about how to run successful IT-enabled services, teams and workflows. It comprises of 3 specialist modules and 1 strategist module:
ITIL 4 Specialist - Create, Deliver & Support
ITIL 4 Specialist - Drive Stakeholder Value
ITIL 4 Specialist - High Velocity IT
ITIL 4 Strategist – Direct, Plan & Improve
You can get a good and quick idea of the new ITIL 4 Certification Scheme in the diagram below. To obtain the ITIL Managing Professional (MP) or ITIL Strategic Leader (SL) designations you must complete all modules in each stream, with ITIL Strategist being a common module for both streams.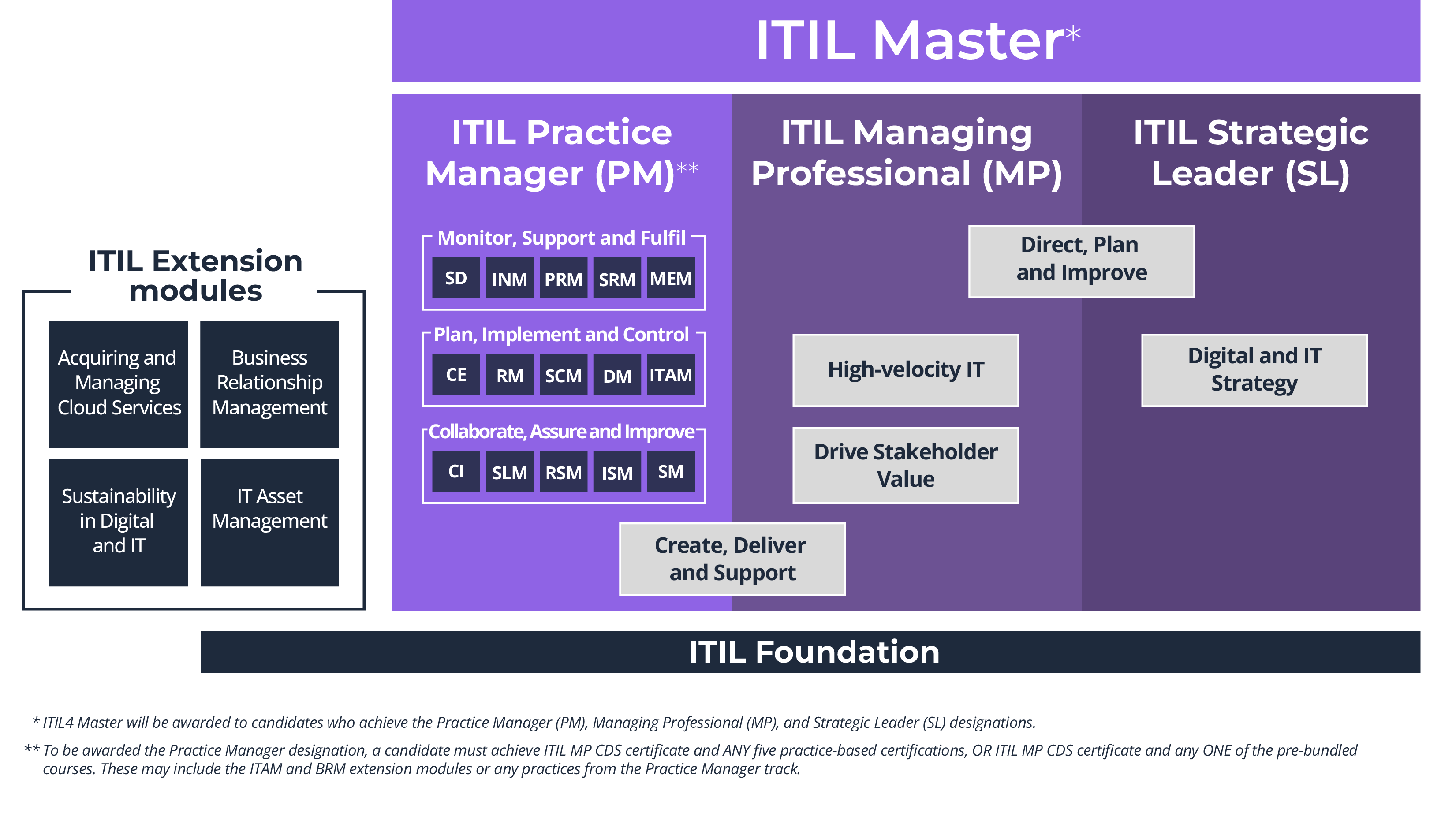 Learning outcomes
This 3-day course provides an understanding of the ways in which digital organizations and digital operating models function in high-velocity environments, focusing on rapid delivery of products & services to obtain maximum value. The qualification will provide candidates with an understanding of working practices such as Agile and Lean, and technical practices and technologies such as The Cloud, Automation, and Automatic Testing.
The course covers the following service management concepts and practices beyond the foundational level to guide practitioners and organisations to design, run and support the systems and services that are needed to fulfil the increasingly challenging demands in the digitally transforming world.
Understand the concepts regarding the high-velocity nature of the digital enterprise, including the demand it places on IT
Understand the digital product lifecycle in terms of the ITIL 'operating model'
Understand the importance of, and how to use the ITIL Guiding Principles and other fundamental concepts for delivering high velocity IT
Know how to contribute to achieving value with digital products
Know how to use the following practices to achieve fast development:

Architecture management
Business analysis
Deployment management
Service validation and testing
Software development and management

Know how to use the following practices to achieve resilient operations:

Availability management
Capacity and performance management
Monitoring and event management
Problem management
Service continuity management
Infrastructure and platform management

Know how to use the following practices to achieve value co-creation with the consumer:

Relationship management
Service design
Service desk

Know how to use the following practices to contribute to achieving assured conformance:

Information security management
Risk management
Who should attend
The ITIL 4 Specialist: High Velocity IT course is designed for:
IT service management practitioners who are seeking to obtain the ITIL® 4 Managing Professional (MP) designation
IT service management practitioners who work in organisations that are becoming more digitally enabled.
Anyone who is familiar with traditional IT and service management concepts, who needs to discuss "digital" confidently, develop practical competencies, and integrate concepts, techniques and technologies into their way of working.
Course contents
1) Introduction and Recap of ITIL Foundation
2) Key concepts of high velocity IT
High velocity IT
Digital technology
Digital organisations
Digital transformation
High velocity IT objectives and key characteristics
Adopting the ITIL Service Value System to enable high velocity IT
3) High Velocity IT Culture
Key behaviour patterns
Models and concepts of HVIT culture
ITIL guiding principles
4) High Velocity IT Techniques
Techniques for valuable investments
Techniques for fast development
Techniques for resilient operations
Techniques for co-created value
Techniques for assured conformance
5) Exam Preparation
Exam techniques
Sample Exam(s)
Course fees
Course Fees
ITIL® 4 Specialist: High Velocity IT
$2,450 + gst per person
Fees include:
Comprehensive course workbook - E-Copy
ITIL® 4 Specialist: High Velocity IT Textbook- E-Copy
Official exam ITIL Specialist:High Velocity IT

Online Examination Voucher (3 Month Validity)
Available on request - Take2 Re-sit Exam option. Contact ALC for more information.
Pre-Requisites
The ITIL 4 Foundation Qualification is a prerequisite for the ITIL 4 Specialist: High Velocity IT Certification
Exam Information
Live Virtual Training – Participants will be provided with an online exam voucher to sit the exams at a time and date of their choosing within 3 months of the course. The web-proctored exams are available 24/7 and run by the examination institute PEOPLECERT.
Face-to-Face Training –As of 01 February, 2022 paper-based exams will no longer be offered by PeopleCert the examination institute for ITIL®. All exams will be conducted online. During the course you will receive an exam voucher and instructions how to book the exam for a date and time of your choice within 3 months of the course. The exams are web-proctored by PeopleCert and are available 24/7.
The HVIT exam comprises:
40 multiple choice questions
28 marks required to pass (out of 40 available) - 70%
90 minutes duration
Closed book