This course is presented as Live Virtual Training. Click for more details.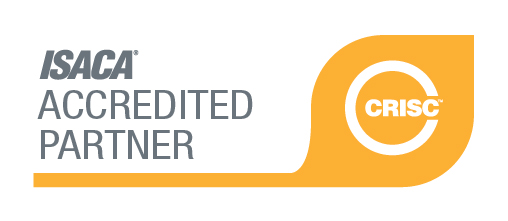 Propel your career with CRISC certification and build greater understanding of the impact of IT risk and how it relates to your organisation.
CRISC is now one of the most highly sought-after qualifications. It is the only certification that prepares and enables IT professionals for the unique challenges of IT and enterprise risk management, and positions them to become strategic partners to the enterprise.
This course has been designed to comprehensively cover the full CRISC syllabus and to prepare you for a first-time pass in the CRISC exam.
Learning outcomes
For organisations, employing CRISC professionals brings great benefits such as
Build greater understanding about the impact of it risk and how it relates to the overall organisation;
Assure development of more effective plans to mitigate risk; &
Establish a common perspective and language about it risk that can set the standard for the enterprise
With a growing demand for professionals with risk and control skills, it is a great time to gain a globally recognised certification in this field. Becoming CRISC certified will:
Demonstrate your knowledge and expertise in risk management.
Increase your value within your organisation.
Provide a gateway to more strategic level roles.
Maintain your high level of professionalism through continuing professional education.
Who should attend
The CRISC certification is designed for:
IT professionals
Risk professionals
Compliance professionals
Project managers
Control professionals
Business analysts
Course contents
This course provides intensive revision across all 4 CRISC job practice domains.
Domain 1 — Risk Management
Collect and review environmental risk data
Identify potential vulnerabilities to people, processes and assets
Develop IT scenarios based on information and potential impact to the organisation
Identify key stakeholders for risk scenarios
Establish risk register
Gain senior leadership and stakeholder approval of the risk plan
Collaborate to create a risk awareness program and conduct training
Domain 2 – IT Risk Assessment
Analyse risk scenarios to determine likelihood and impact
Identify current state of risk controls and their effectiveness
Determine gaps between the current state of risk controls and the desired state
Ensure risk ownership is assigned at the appropriate level
Communicate risk assessment data to senior management and appropriate stakeholders
Update the risk register with risk assessment data
Domain 3 – Risk Response and Mitigation
Align risk responses with business objectives
Develop, consult with and assist risk owners with development risk action plans
Ensure risk mitigation controls are managed to acceptable levels
Ensure control ownership is appropriately assigned to establish accountability
Develop and document control procedures for effective control
Update the risk register
Validate that risk responses are executed according to risk action plans
Domain 4 – Risk and Control Monitoring and Reporting
Risk and control monitoring and reporting
Define key risk indicators (KRIs) and identify key performance indicators (KPIs) to enable performance measurement
Determine the effectiveness of control assessments
Identify and report trends/changes to KRIs/KPIs that affect control performance or the risk profile
Final Session - CRISC Sample Exam Questions
Course fees
CRISC® Certified in Risk and Information Systems Control
| | |
| --- | --- |
| CRISC course alone | $3,450 + gst |
| CRISC exam (optional, see below) | $920 + gst |
| CRISC  course + exam | $4,370 + gst |
Course fees include:
Course presentation with Tier 1 trainer
Comprehensive course workbook
Official ISACA CRISC Review Manual
12-month online access to Official ISACA CRISC Review Questions, Answers and Explanations Manual
Sample Practice Questions and Answer Key Sample Practice Tests
The CRISC Exam
The CRISC exam is set, conducted and marked by ISACA.  All exams will be conducted online via computer-based testing centres around the world.
Exam vouchers via ALC
You can book your CRISC exam direct with ISACA (see below) or else you can purchase an exam voucher via ALC (we are an ISACA Accredited Channel Partner) and have both course and exam on the one invoice.
If you want to purchase via ALC please make sure, when making your online registration, that you indicate "CRISC Course + Exam" in the COMMENTS field and that you choose the PAY BY INVOICE option (do not select the PAY BY CARD option).
The voucher will be issued to you at the end of the course together with full instructions as to how to register for the exam. Please note that the actual exam registration is done direct with ISACA using the voucher code issued to you.
For more information on how to register for an ISACA exam, please refer to the exams page on the ISACA website.