This course is presented as Live Virtual Training. Click for more details.
The ITIL 4 Specialist: Drive Stakeholder Value (DSV) certification is one of the 4 modules leading to the ITIL Managing Professional qualification. ITIL DSV guides stakeholders, whether they are customers or service providers, through the principles and practices of co-creating value through services. It focuses on establishing, maintaining, and developing effective service relationships with customers, users, suppliers and partners and leads organisations on a service journey in their service provider and consumer roles, and supporting effective interaction and communication.
The ITIL 4 Managing Professional (MP) Qualification
In the new ITIL® 4 scheme there are two high-level "stream" qualifications - ITIL Managing Professional (MP) stream and ITIL Strategic Leader (SL) stream.
The ITIL Managing Professional stream targets IT practitioners working within technology and digital teams across businesses and provides practical and technical knowledge about how to run successful IT-enabled services, teams and workflows. It comprises of 3 specialist modules and 1 strategist module:
ITIL 4 Specialist - Create, Deliver & Support
ITIL 4 Specialist - Drive Stakeholder Value
ITIL 4 Specialist - High Velocity IT
ITIL 4 Strategist – Direct, Plan & Improve
You can get a good and quick idea of the new ITIL 4 Certification Scheme in the diagram below. To obtain the ITIL Managing Professional (MP) or ITIL Strategic Leader (SL) designations you must complete all modules in each stream, with ITIL Strategist being a common module for both streams.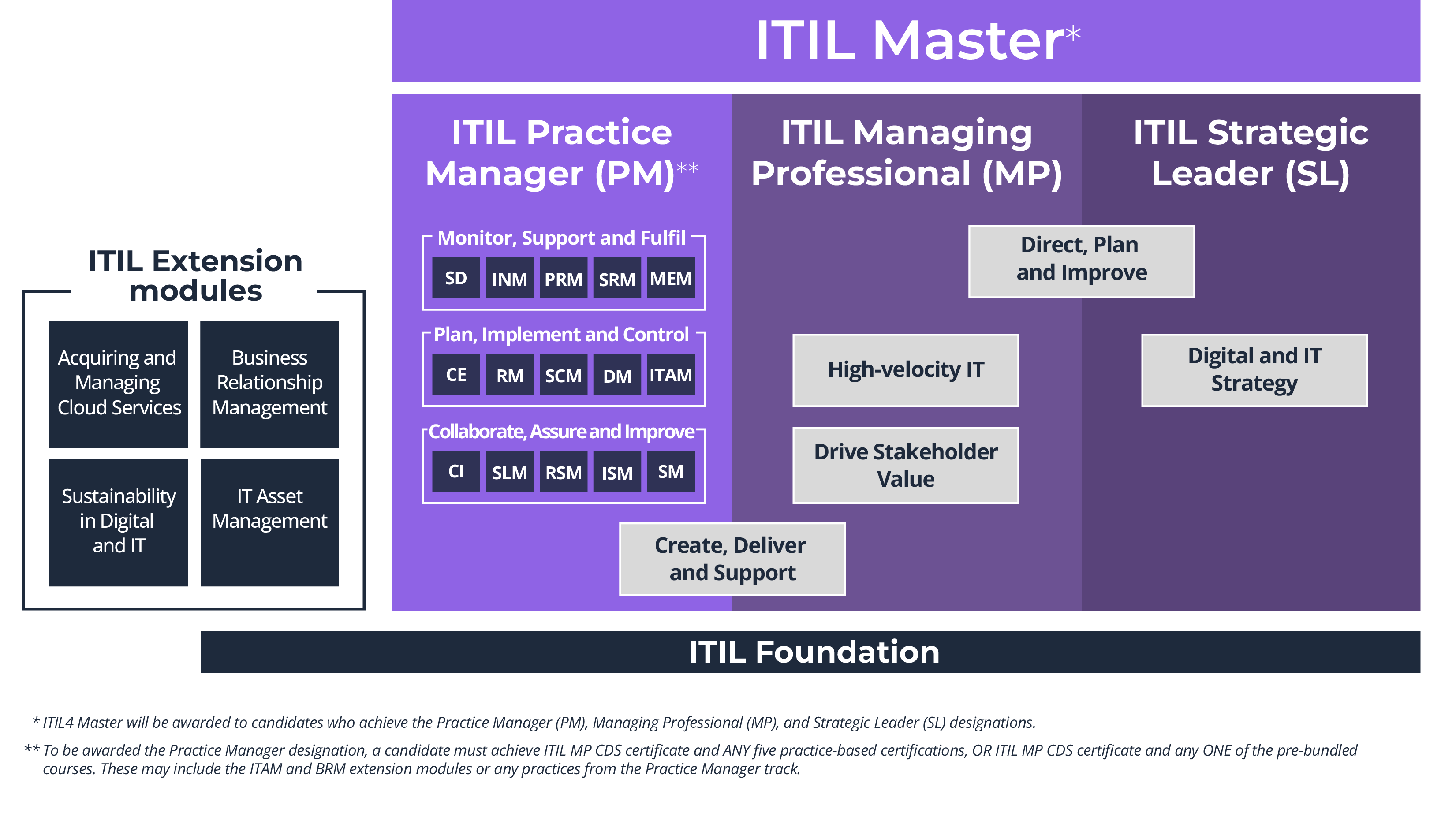 Learning outcomes
This 3-day course covers the core service management concepts and practices beyond the foundational level to focus on the establishment, maintenance and development of effective service relationships, to achieve the desired stakeholder value.
Understand how customer journeys are designed
Know how to target markets and stakeholders
Know how to foster stakeholder relationships
Know how to shape demand and define service offerings
Know how to align expectations and agree details of services
Know how to onboard and offboard customers and users
Know how to act together to ensure continual value co-creation (service consumption / provisioning)
Know how to realise and validate service value
Know how to use the following practices to enable stakeholder value:

Relationship management
Supplier management
Service level management
Service catalogue management
Service desk
Service request management
Portfolio management
Who should attend
The ITIL 4 Specialist: Drive Stakeholder Value course is designed for:
IT service management practitioners who are seeking to obtain the ITIL® 4 Managing Professional (MP) designation
IT service management practitioners who are engaged in service relationships, including product and service provision, consumption, and relationship management
Roles include:

Relationship managers
Customer experience (CX) managers
Account managers
Service delivery managers
Service desk managers
Service level managers
Enterprise architects
Service and solution architects
Business analysts
Product owners and digital product managers
Marketing managers
Project managers
Portfolio managers
Supplier relationship managers
Vendor or contract managers
Customer experience/user experience designers
Course contents
1) Recap of ITIL Foundation
2) Introduction
The importance of engagement
Key principles
3) The Customer Journey
Stakeholder aspirations
Touchpoints and service interactions
Mapping the customer journey
Designing the customer journey
Measuring and improving the customer journey
4) Step 1: Explore
Understanding service consumers and their needs
Understanding service providers and their offers
Understanding markets
Targeting markets
5) Step 2: Engage
Communicating and collaborating
Understanding service relationship types
Building service relationships
Managing suppliers and partners
6) Step 3: Offer
Managing demand and opportunities
Specifying managing customer requirements
Designing service offerings and user experience
Selling and obtaining service offerings
7) Step 4: Agree
Agreeing and planning value co-creation
Negotiating and agreeing a service
8) Step 5: Onboard
Planning onboarding
Relating with users and fostering relationships
Proving user engagement and delivery channels
Enabling users for service
Evaluating mutual capabilities
Offboarding customers and users
9) Step 6: Co-create
Fostering a service mindset
Ongoing service interactions
Nurturing user communities
10) Step 7: Realise Value
Realising service value in different setings
Tracking value realisation
Assessing and reporting value realisation
Evaluating value realisation and improving customer journeys
Realising value for the service provider
11) Exam Preparation
Exam techniques
Sample Exam(s)
Course fees
Course Fees
ITIL® 4 Strategist: Drive Stakeholder Value
$2,450 + gst per person
Fees include:
Comprehensive ALC course workbook, quality colour printed
ITIL® 4 Specialist: Drive Stakeholder Value Textbook
Official exam ITIL Specialist:Drive Stakeholder Value

Online Examination Voucher (3 Month Validity)
Available on request - Take2 Re-sit Exam option. Contact ALC for more information.
Pre-Requisites
The ITIL 4 Foundation Qualification is a prerequisite for the ITIL 4 Specialist: Drive Stakeholder Value Certification
Exam Information
Live Virtual Training – Participants will be provided with an online exam voucher to sit the exams at a time and date of their choosing within 3 months of the course. The web-proctored exams are available 24/7 and run by the examination institute PEOPLECERT.
Face-to-Face Training – As of 01 February, 2022 paper-based exams will no longer be offered by PeopleCert the examination institute for ITIL®. All exams will be conducted online. During the course you will receive an exam voucher and instructions how to book the exam for a date and time of your choice within 3 months of the course. The exams are web-proctored by PeopleCert and are available 24/7.
The DSV exam comprises:
40 multiple choice questions
28 marks required to pass (out of 40 available) - 70%
90 minutes duration
Closed book